RECOMMENDED GIGS
THU, 29 DEC 2005 - Big Blues Extraveganza @ Mr. Kyps, Parkstone
SHARP DRESSED MEN Friday, 16th December 2005
Bournemouth's very own sharp dressed men, Black Bart, played an excellent set to a full house at the Green Room on Friday. Probably Bournemouth's only alternative country band gave us a fine mix of covers and original songs featuring clanking lead guitar and urgent Dylan-esque vocals. Make sure you check out Black Bart in the New Year if you haven't already had the pleasure.
HE CAME IN BY HELICOPTER ( SUGAR MAMA ) Sunday, 18th December 2005
Trippy blues duo, Suga Mama played the Portman Hotel on Sunday night to an small but appreciative crowd. The duo's mix of acoustic blues and almost cosmic echoey instrumental pieces worked well in the intimate atmosphere of the top bar, as opposed to the low level bar, better known as the Green Room. The duo were joined by a guest musician who played harmonica and a variety of percussion. Sorry, I've forgotten the guy's name. I also seem to have forgotten the main man's name. Memory was never really my strong point. Anyway, this guy, the main man that is, was not only an accomplished and imaginative musician but he was also blessed with a dry but almost psychedelic sense of humour. When introducing the guest harp man to the audience he said something like this. '??? has flown in from Kentucky to be with us tonight ...... cost effective this is not' ... He then glanced at the ceiling and noticed a large brass fan rotating above his head, and said ...... 'He came in by helicopter.' Was that really lager he was drinking or was it something a little more interesting? Was that really Guiness that I was drinking? Whatever, they wound up with a fine version of the Peter Green classic 'Green Mahalishi'. A most excellent evening.
SHIMMERING Wednesday, 14th December 2005
Shimmering - Sparkling - Spidery - Shivery
Like walking home from the pub on a cold starry night, but the pub is on Pluto and home is Planet Earth. I refer to Pirate Ship Quintet (or Quartet, as the case may be) at the Green Room, Thursday night. Thanks, guys, for reassuring me that cosmic shoegaze is alive and kicking.
View a picture of the Green Room (after hours).
View a picture of the Pirate Ship Quintet.
THE RETURN OF FRANK SLOB Sunday, 11th December 2005
Nice to see the re-emergence of Frank Slob at the Portman Hotel on Sunday night, accompanied by 'The Doctor' on sax'. Nice to hear some blues and soul classics that I hadn't heard in many, many years. The stripped down, two man, keyboards and sax format, worked well in the intimate top bar at the Portman, rather than the more cavernous Green Room that we all know so well. Shame there was only a handful of punters there to hear the guys play. Here's hoping for a better turnout at their next Portman gig on 5th February 2006.
GHOSTS OF THE SAMURAI December 2005
Alternative band, Ghosts Of The Samurai are seeking additional musicians to complete their line-up.
Wanted - bassist, pianist, saxophonist, trumpets and lead guitarist.
If you can help, please contact the band. To listen to some mp3's of their music visit their website. To catch them playing live, head for 'Klute' (Bournemouth), this Wednesday night (the 7th).
BUTCHER BLUES FOUNDATION 7th December 2005
Unmissable Gig -
Butcher Blues Foundation @ O'Neill's, this Thursday -
View Pictures -
Be There !!!
RECOMMENDED MP3 December 2005
Transport yourself far way from the depression of a cold, grey British winter to green and more pleasant land. Check out this new track from Keith Mouland and Paul Godden, called -
'Walking The Hills', available from Folkwit Records.
Relax and float downstream, as John Lennon once said.
POWER CUT 18th November 2005
Dr. Feelgood at Kyps on Thursday - Brilliant !!! - All the more surprising as there are now no original members in the current line-up. Shame about the power cut which plunged the venue into darkness and brought the show to an end somewhat prematurely.
SOLID AIR EXPANDS ??? November 2005
According to 'Live Wire' (printed version) Conrad's Solid Air show has taken over Wednesday nights as well as Monday nights at the Green Room. Is this reality or just a simple typing error? Who knows? It's not mentioned on the Solid Air website so possibly this is just a figment of the imagination. Must check it out someday soon.
RUBBER SOUL - NEW VENUE November 2005
Conrad Barr's Rubber Soul weekly extraveganza has moved to a new home. So, every Thursday, head for 'Benedicts', upstairs @ The Opera House, Boscombe to witness the latest developments on Bournemouth's weird and wonderful alternative music scene. Unmissable.
BEDLAM Thursday, 3rd November 2005
Cowpunk, in the form of local lunatics, 'Pronghorn' + the excellent & ironically named
'Hopeless Attendance' appear at the Green Room, Boscombe this Thursday.
Say no more.
JUJUMANIA SPREADS LIKE WILDFIRE Autumn 2005
Jujumania, sometimes known as 'Music from the Primeval Swamp', appears to be capturing the imagination of the Great British public. Two highly successful gigs for local old skool rhythm and blues merchants, The Juju Men - Saturday at the Parkstone and Sunday at the Thomas Tripp - bodies gyrating on the dancefloor - raptuous applause from punters of all ages - top hats - mega CD sales - total chaos. Come and witness it for yourselves. You won't be disappointed.
YET ANOTHER NEW VENUE Autumn 2005
Yet another live music venue springs into action - 'The Dean Park Inn', located at Cemetry Junction, Bournemouth - Good feedback - Apparently 'Crosscut Saw' played there recently and the place was 'heaving' - Haven't checked it out yet myself - Must do ASAP
ON FIRE Autumn 2005
This band is on fire !!! What am I on about? Check 'em out for yourself and you'll see what I mean. Oh, and by the way, the band goes under the nicely ironic name of 'Hopeless Attendance'. Next performance believed to be Thursday, 3rd November 2005 at the Green Room, supporting much loved cow-punksters, 'Pronghorn'. Yes, I see it is listed at Live Wire so I must have got it right. It should be a riot !!!
JAMES & BEN Friday, 28th October 2005
James & Ben - Who are they ??? Find out by catching them at the Cellar Bar in Boscombe, this Friday. If you are still mystified, check out three free downloads, available from their website .
EVIL October 2005
Music from the primeval swamp, old school R'n'B, retro R'n'B, call it what you will, this is the kind of stuff that is featured on the latest album by the highly acclaimed The Juju Men, aptly entitled 'Evil'. You can obtain your copy by venturing to Lunar Beach, more commonly known as Shell Bay, this Sunday afternoon. The gig starts at 6pm. The venue can be reached by chain ferry, or by rowing boat if you prefer. The name of the venue is the Shell Bay Seafood Restaurant. The price of the album is a mere £5 and the food is truely exotic. Be there or be boring.
MICKY MOODY @ MR. KYPS Wednesday, 19th October 2005
Not just another blues guitarist. Micky and his band held my attention from start to finish. Micky adds his own special twist to the blues and backing him up are a red-hot, super-tight rhythm section and a fabulous harmonica player who not only plays blues harp but also Jew's harp. Can you believe that?
HIGH PRIORITY Friday, 28th October 2005
High priority gig - The Surfragettes + Guerilla Tapestry + DJ Chairman Neilster (the ultimate primeval swamp DJ) @ The Green Room, The Portman Hotel, Boscombe - Friday, 28th October 2005 - this gig will be inter-gallactic - trust me - be there or be nowhere !!!
WHERE WERE YOU ??? Saturday, 15th October 2005
The lead singer is a lunatic and the first song features Lucy playing the ultimate one note riff. This is the stuff that rock'n'roll is made of. Johnny Kidd would be a happy man tonight if he wasn't dead. And the support act was insane too. A kind or dark and hollow mutation of the Stray Cats using just two musicians. Can you believe that? Many thanks to Mark'n'Mark and the Hotfoot Jackson Crew for injecting my Saturday night with raw and ragged insanity. If you weren't there, you were nowhere.
FREEDOM HIGH Saturday, 22nd October 2005
Catch freedom high (formerly the adored) at mr smiths on sat 22nd october...already a sell out....new songs...new c.d released soon.....you've seen them before but they are now ten times better, they now live and gig in London.my guess is that they'll be signed soon....cheers for now.....ron
(Plug by Ron Surgenor)
MADDFEST 31st October 2005
The right place to be is Mr. Kyps on the 31st October for MADDFEST, a fundraising charity gig, supported by BARCLAYS, in aid of the Motor Neurone Disease Association and Macmillan Cancer Relief. Appearing will be 'Wafer Thin Space', a brilliant new band. Jordan Gray (15, lead guitar) and Craig Gray (19, vocals) take the front line with Matt Cvijan (15, bass guitar) and Ed Cvijan (14, drums) completing this talented young line up of musicians. Performing mostly their own material influenced by Hendrix, Van Halen and Santana with a few classic covers thrown in for good measure they are not to be missed as they continue to launch themselves on the local scene. Oh, and I almost forgot to mention, also appearing will be Q.E.D. & Tattooed Love Gods.
Doors open at 7:30. Tickets are £5 in advance from Mr. Kyps Tel. 01202 748945. www.mrkyps.net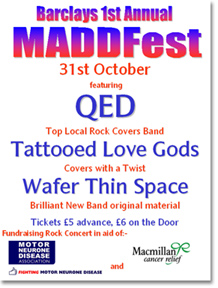 GUERILLA IN THE GREEN ROOM 7th October 2005
Well worth seeing was Guerilla Tapestry at The Green Room on Friday. Twin lead vocals, mellow, swirling keyboards and jagged guitar worked well together. At times I heard hints of vintage Roxy Music, Lou Reed and very early Pink Floyd. Or was that my imagination? Anyway, the keyboard player consumed a mysterious liquid from a green plastic bottle at intervals during the performance. Brake fluid? Antifreeze? Or perhaps something more exotic, more psychedelic? It certainly did the trick.
NEW LIVE MUSIC VENUE Autumn 2005
New venue called 'The Parkstone'. Logically the establishment is located in Parkstone. To be more exact, it is located at the crossroads in Ashley Road, more or less opposite Safeways. The place comes with a reputation but despite that local edgy rock/blues band, 'Raising Cane' have played there and are still alive to tell the tale. The Floaters are playing there this Friday, the 7th. The Juju Men are due to play there on the 29th. Check it out for yourself, but remember the lyrics of the old Tommy Tucker classic, 'High Heel Sneekers' - 'Gonna wear my boxing gloves, in case some fool might want a fight'. Or something like that.